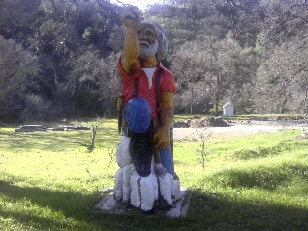 History of
Coarsegold
California
The great community of Coarsegold glitters with growth and vitality thanks in large part to the discovery of gold. It could even be said that our township is "Texas born and raised" since it is due to the discoveries by two groups of Texan prospectors that so many people have flocked to Coarsegold.

First, in 1849, a group of lucky Texans wandered south from the Mariposa area. While establishing camp for the single night, one of them went to the creek for water. Winking up at him from the creek bed was good fortune in the form of a half-ounce gold nugget. The lucky Texan and his party managed to find several more gold nuggets that fateful evening and rightly decided to make camp in a more permanent fashion. They named their lucky new campsite Coarse Gold Gulch and settled in to stay.

One very successful early settler was Charles

Michael who arrived in the area some time in 1850. He made his fortune, not because of finding gold, but as a merchant. He tried his hand at searching out a fortune in gold nuggets. However, his gold fever did not blind him to the fact that as more and more miners arrived, there was perhaps an easier fortune to be made by supplying the hordes with food and other provisions. So, he turned his talents to the raising of cattle and sheep and founded the town's first business enterprise. With a year, the population of Coarse Gold Gulch had soared to about 1,500. The town's center, consisting of Mr. Michael's General Store and a saloon, shifted a bit toward Texas Flat, where a lode mine was discovered. The Texas Flat Mill, boasting 20 stamps, was erected and a well was dug for the town's water system. The town's residents proudly certified its name as Coarse Gold Gulch with the establishment of the first post office.

In 1851, another group of Texans arrived. This lucky group of greenhorn Texans found several thousand dollars in gold nuggets. It was assumed that these gold nuggets traveled a ways downstream from a lode. By 1853 the region's first lode claim, the Texas Flat Mine, was aptly named.

Through the years, the community of Coarsegold flourished and grew; a town born from a quest for gold, that glitters with the spirit of its settlers.Texas Flat Gold & Silver Company was incorporated in 1863, for the sum of $1,500,000. By all accounts, the investment was recovered very quickly before its sale to the Hearst family.

In 1880, the Krohn family added yet another chapter to the history of the town now officially known as Coarsegold. The family had arrived in 1874 and had come to know the area well. Mr. Krohn first built the St. Charles Hotel, an impressive structure with a 20 room annex, catering to foreign travelers. Next he built a new general store and a dance hall. Other enterprising individuals followed in Mr. Krohn's footsteps and soon the town flourished with a school, boarding house, blacksmith shop and assorted dwellings. By the turn of the century, The Coarsegold Baptist Church was built by local Indians at the request of the town's first missionary, Alfred Lord.

Today, Coarsegold has a population of over 13,000, of which almost half lives in Yosemite Lakes Park.



Webmaster's Note and Disclaimer: Since mid-1800's California was primitive, all historical accounts may be a combination of fact, fiction, and fantasy. I make no guarantees of the accuracy of this.